It's time again to take a look at the week through the crypto-meme filter. A week that's seen Visa buy a CryptoPunk, Budweiser twist the top off its NFT account, and more coins rising and dipping than a game of Sonic the Hedgehog.
The week got off to a pretty bullish start, with Bitcoin (BTC) rocketing towards US$50K, Avalanche (AVAX) crushing it, and Cardano (ADA) hitting all-time highs. The moonbois were out in force…
While ADA might've been stealing some of the limelight this week, Bitcoin, as ever, has still largely been holding the fate of most altcoins in its hands.
Maybe Ethereum (ETH) will change that game one of these days, or maybe the NFT market will end up doing its own thing, but for now, this is the deal…
https://twitter.com/DickWhitman_BTC/status/1429893170356174850
But Bitcoin has been about as decisive as the US Senate on cryptocurrency taxation amendments. (World's most boring analogy, we know, but you had to be there – even Gene Simmons was interested.)
Consequently, meme sentiment has also been chopping around…
here comes the bottom… pic.twitter.com/2fGwP7aT6H

— Crypto memes (@cryptomemes24) August 23, 2021
Hodl from cryptocurrencymemes
Hello, would you like a McDouble or a McChicken? pic.twitter.com/5EkVqzCJKh

— Crypto memes (@cryptomemes24) August 23, 2021
https://twitter.com/memeticcult/status/1430659748379168769
https://twitter.com/memeticcult/status/1430331600953397250
I will go down with the ship. pic.twitter.com/25gWpv4t9B

— Crypto memes (@cryptomemes24) August 26, 2021
All aboard… pic.twitter.com/rV9IWLqdgV

— Crypto memes (@cryptomemes24) August 26, 2021
You don't get it… You never need to sell, Susan! from cryptocurrencymemes
https://twitter.com/memeticcult/status/1430669441558269957
Visa and Budweiser get some dick-pic love
Probably  the best news-related meme of the week, though, has to be this one (below). It's actually a non-fungible token sent directly to Visa's brand new Ethereum address from someone called "doopie", and can be seen on the NFT platform OpenSea. The card payments giant announced midweek that it now owns a CryptoPunk, bought for US$150K.
Strange days, but exciting ones for the fast-growing world of NFTs.
And if you happen to go to that OpenSea address of Visa's you'll find not only the CryptoPunk, but a multitude of other NFTs, including pixelated boobs, turds, dick drawings, animals that look like dicks and lots of other things we're having a hard time describing.
This isn't Visa aping in to every ridiculous-looking generative NFT avatar project it can find (we think)… it's a spam-happy cryptoverse with way too much time on its hands, sending Visa welcome gifts.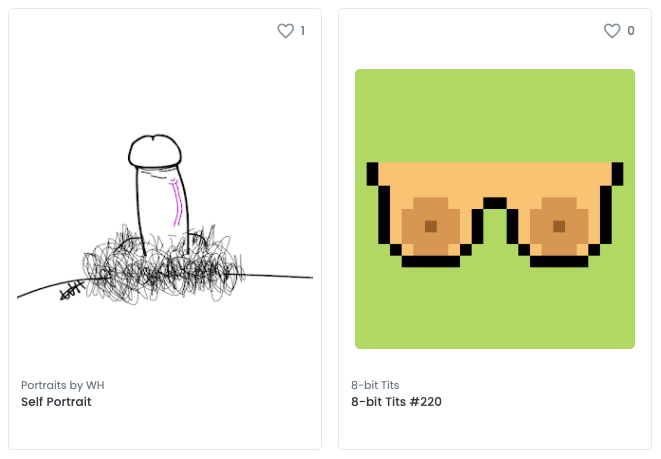 And the same thing actually happened to Budweiser this week, when it announced it had bought a .eth domain name for almost US$100K and an NFT rocket drawing for about US$25K.
Although, for now, it looks like someone at Budweiser's been doing a good job of clearing out any unsolicited NFTs. Jpeg Wallet Sweeper might even become a full-time job.
Meme randomness to wrap up the week
The week's not over and memes are being rolled out faster than degenerates flipping jpegs all over the crypto world. This article's pretty much over, though, but we'll leave you with these…
Lol 🤣 #Ethereum #Crypto pic.twitter.com/7lNbCBy8Rk

— cardanowillflip.eth 🌱 (@cardanowillflip) June 24, 2021
And finally, we think this one just might be the posting of the week…
Boomers had Real Estate and Tech Stocks! We Have Crypto from cryptocurrencymemes
Sponsored Articles