I'm not sure when golf carts fell into the "emergency supplies" category, but the US Secret Service seem to think they are essential.
According to a report by The Washington Post, "the Secret Service this week signed a $45,000 contract to rent a fleet of golf carts in Northern Virginia, saying it needed them quickly to protect a 'dignitary' in the town of Sterling, home to one of President Trump's golf clubs".
The contract was apparently deemed an "emergency order".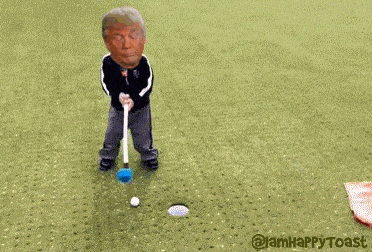 Now, here's what you might have missed on Stockhead this week, but everyone else didn't, and liked the most.
Contrary to what many fearful Australians may have felt over the last month, the country does not have a food supply problem.
Although there are reports circulating that China has been raiding our supermarket shelves and shipping the products back home.
So with Aussie produce in such strong demand at home and abroad it is perhaps not surprising ag stocks are holding up in a not-so-great market.
Late last week Morgans analysts Tom Sartor and Andrew Tang said food staples would prove to be among the "most resilient to COVID-19 impacts".
Rachel Williamson delves into what investors should look for when in investing in ag stocks, and which ones will be the hot favourites.
Some analysts have pointed to evidence that economic activity is getting back on track in China, the original epicentre of the coronavirus outbreak, now the worst of the crisis has been contained.
That is bound to get some excited, particularly those with business ties to the Asian powerhouse.
After all, when China is fully cranking, the flow on economic benefits are clear for the rest of the world – especially the ASX small caps that have exposure to Chinese growth.
Sam Jacobs runs through five Aussie small caps that stand to benefit.
From hair loss curer to COVID-19 rapid diagnostic test distributor, this extreme about face sent Cellmid (ASX:CDY) shares up 400 per cent on Monday. Epic.
Seems like everyone is looking to make a quick buck out of the pandemic right now.
Cellmid struck a deal to import and sell in Australia this China-made test.
Get the lowdown here if you were too focused on self-distancing and not touching your face to take it in the first time around.
In the last couple of weeks medical professionals in Australia have been forced online, in a radical upheaval of the health sector.
The federal government even went as far as dropping a further $669m on expanding Medicare subsidies to make telehealth services universal for the next six months.
So just how does one go about digitising an industry in just two weeks? And which stocks are enjoying the "wild ride"?
It's all outlined in this piece by Rachel Williamson.
Nickel exploration has emerged as a bright spot among the coronavirus-induced gloom thanks to a number of exciting drilling results in Western Australia.
The exploration results — and what might come from the ongoing programs — have created a bit of a buzz across the sector.
That is being reflected in the against-the-trend share price improvement for the nickel explorers involved, including the spectacular 175 per cent gain by Chalice Gold Mines (ASX:CHN) last week in response to its Julimar discovery, 70km northeast of Perth.
'Garimpeiro' columnist Barry FitzGerald recaps the goings on in the nickel market.
Perhaps an apt way to describe the situation. The market could very well be lulling us into a false sense of security before leading us down the "sucker hole".
Astronomical levels of stimulus have a way of settling down markets for a brief moment or two.
But it's still a pretty good time to be a gold player because the majority of the ASX-listed companies were still ahead this week.
You can find out the state of affairs in Reuben Adams' weekly gold wrap.
It's always in a crisis that market watchers and economists have the most to say. And our readers certainly lap it up.
Probably because the information overload hasn't really clarified the situation any better.
But it's Sam Jacobs to the rescue with a simplified, concise round up of three views from economists on what a post-COVID world will look like.
However, "what we really don't know is at what point we think the crisis will peak", according to one economist. At least he's honest.
Read on to see what these three economists had to say.
The COVID-19 crisis is not over yet, but three weeks since Wilson Asset Management ran its last investor conference call many things have changed.
Now the US is the world's hotspot, lockdowns have hit Western countries and while businesses initially anticipated it would just be another period of soft demand, some are now needing bailouts to survive.
But Wilson Asset Management is confident there is light at the end of the tunnel.
Nick Sundich recaps what the fund manager had to say to investors this week.
Given punting on how high or low the ASX will close is now a thing (thanks Sportsbet), it's no surprise everyone is interested in finding out which sectors will be winners and which ones will be left out in the cold.
For those who want to stick to trying to make money from backing stocks instead of taking a punt on the ASX like they would a horse race, investors are doing whatever they can to protect their portfolio.
To find out who's in the winner's circle, read on.
Who wouldn't want to know where the billionaires are sinking their money?
Investors clearly want to know the "best stocks to buy now" – that search term shot up 450 per cent in the last three months, according to Google Trends.
On that note, Sam Jacobs decided to give readers a rundown on which billionaires are buying what.
Though Warren Buffett has been a little elusive of late…
Have a good weekend!
Sponsored Articles