In this brand new corker of a Stockhead series, The Strawman himself, Andrew Page shares three sexy, salacious and significant investment trends, ideas or idiosyncracies worth a gander at your local or global market.
A top equities analyst, sufficiently engaging market commentator and terrific listener, Pagey is the founder and managing director of Strawman.com — one of Australia's toppest online private investment clubs. 
We've been white-anting Andrew for some time now. So without further ado:
Page 3 Guy, Chapter 1
Consisting of over 2100 individual companies, the Australian share market has a fair few interesting features.
One of the first curiosities a wandering investor might notice is the significantly outsized real estate taken up across the ASX by our major banks.
Fact: there's but 21 businesses on the ASX classified (loosely) as banks. But the 'Big 4' — CBA, NAB, ANZ and Westpac — are the obscenely obvious standouts.
Combined, they account for 94% of the total market value of the listed banking space.
We're talking over $400 billion of combined market capital. Big dollars, yes. But humungous when taken in context. The Big Four are sprawled across roughly 15% of the total value of the entire share market.
I needn't tell you, but I'm going to anyway because that's what they don't pay me for and that's the kind of person I am – annoying – that this represents a very, very large portion of the entirety of Australian stocks represented in just four companies.

Let's keep wandering…
So, this is the All Ordinaries index, where the top 500 or so listed companies in Australia cohabitate in a sort of law of the jungle harmony. That's the Communications Sector (they don't talk much)… there's some Consumer stocks (it's lunchtime after all) and look, to your right are the Utilities (…sorry the damn lights not working!) Really? Oh, yes. I see. Sorry. That's AGL. No for God's sake don't wake… just, er… step over them. I know. Looks like they've been shot out of a cannon. Ah. Here we are:
These are our mining giants.
BHP Billiton, Rio Tinto and Fortescue Metals.
These three can mix it up but it is really all about iron ore, far as the eye can see. Together these monsters represent $280 billion of current Aussie market value, or more than 10% of the total value of the entire sharemarket.

Top Heavy
Of the top 500 Australian public companies which make up the All Ordinaries, the major banks and miners alone account for almost one third of the total value.
That's pretty unique. Some may call it messed up, but I prefer to think of it more like a benign tumour, vast and ugly perhaps, sticking out of the neck or groi. Horrid, appalling to look at, but pretty harmless once you know what you're looking at.
The Australian market is very, very top heavy. Seven individual companies make up a full quarter of the entire market's value.
The top 10 constituents of the All Ords index account for about 43% of the total dollar value of the rest.
It's actually a little bit like this, I guess:
If on that rare occasion I am moved to feel something akin to empathy for a top 20 stock having a hard time, then I just think of this chart.
Another thing that stands out about the vastness of the ASX is that 45% of all listed companies belong to either the materials or energy sectors.
That's almost 1,000 individual companies.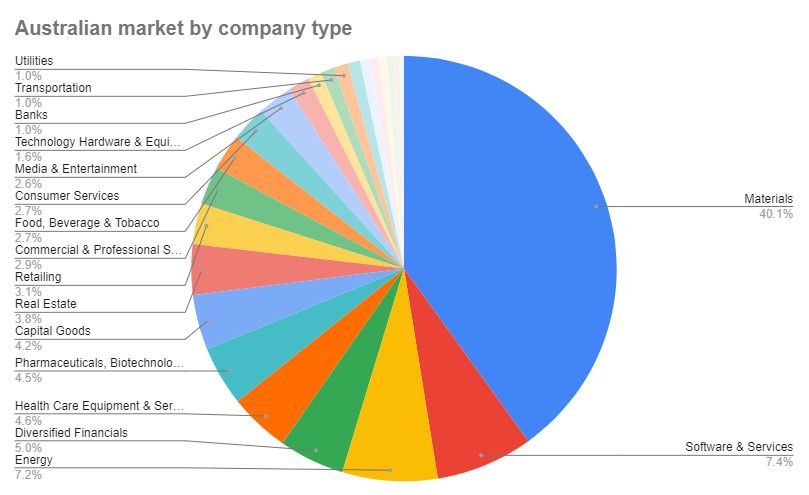 Throw a dart at the ASX, and you wouldn't be the first, the odds are good you'll hit a stock that digs stuff up to sell.
Things move around a bit when you instead carve things up according to the associated market value of these companies.
Not surprising, really, when you recall the massive tumour of the banks, and the fact that many of the materials and energy stocks are comparatively tiny.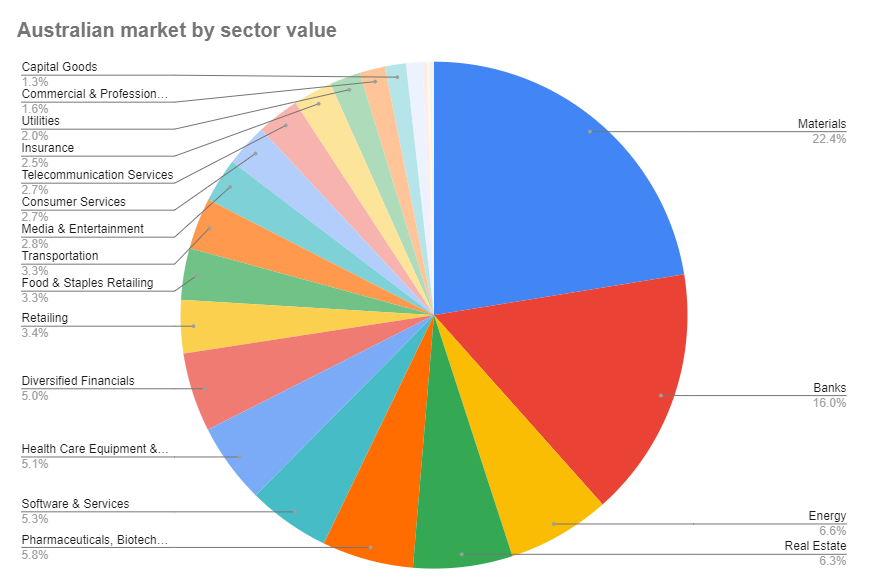 Houses and Holes
Given the core business of our largest companies, it really is true to say that the Australian economy is largely about 'houses & holes'.
Be that as it may, are these then the sectors which deliver the best action?
Aussie investing royalty, Peter Thornhill, has long argued it's actually the 'industrials' which create most of the value for shareholders. (Here, he's referring to any company that isn't involved in raw material extraction.)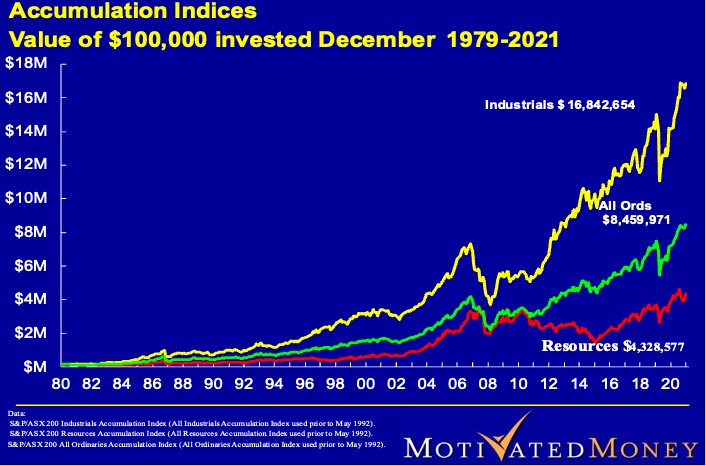 The contrast is pretty stark.
Resource companies, on average, aren't typically kind to investors.
It makes intuitive sense: an iPhone is far more valuable than the sum of its raw component materials. Real value creation occurs when you put stuff together in interesting ways.
That being said, the irony is that whenever you ask what has been the best performing company over the last 3, 5 or 10 years, the answer is almost always a resources related stock.
Indeed, over the past five years, nine out of the top 10 performing stocks have been resource companies.
At the very top of the pops is Liontown Resources (ASX:LTR).
Back in 2017, you could have picked up LTR shares at 0.7c each.
Had you invested $10,000 back then, you'd today have over $2.4 million. That's an average annual compound return of 197% per annum!
Of course, five years ago Liontown was a highly speculative explorer with little more than some hopes and dreams. Things turned out well — very well — for shareholders, but it's worth remembering that it is the exception to the rule.

Don't hug the index
Well, it's important to know the neighbours. And it's interesting to understand the character of the market. But, perhaps, there are a few insights we can extract.
First, you can afford to be fussy.
You really don't need more than, say, 20 stocks to be well diversified, so you should be saying a hard 'no' to 99% of the companies you come across.
Why settle for mediocrity?
Next, if you want incredible returns, you need to take incredible risks.
Triple digit compound annual returns are your reward for getting it right. Bone-crushing losses await if you get it wrong — and the odds are against you. There's nothing wrong with that, just understand the game you're playing.
Also, what 'the market' does will probably have little relevance for a selective stock picker that ventures away from the big banks and miners.
Indeed, the more you want to outperform the market, the less your portfolio should look like the benchmark indices.
Of course, that can be for better or worse, but if you're going to 'hug the index' you're never going to cover yourself in glory.
(That being said, the average tends to be pretty decent, so that's not a terrible thing. Again, it just pays to understand what you should expect.)
Finally, somewhere out there, amongst those thousands of listed companies, there exists today a good number of stocks that offer truly life changing potential.
And these will almost certainly be largely unnoticed and under-appreciated small cap companies.
We love them.
Although finding them won't be easy.
Holding on for the duration will be even harder.
So take a look around, hope you find something you like.
Andrew Page
The views, information, or opinions expressed in the interviews in this article are solely those of the interviewees and do not represent the views of Stockhead. Stockhead does not provide, endorse or otherwise assume responsibility for any financial product advice contained in this article.
Sponsored Articles