After 35 years of stockbroking for some of the biggest houses and investors in Australia and the UK, the Secret Broker is regaling Stockhead readers with his colourful war stories — from the trading floor to the dealer's desk.
When you were sitting in your non-airconditioned porta cabin classroom, listening to your history teacher banging on about Great Britain, you were probably looking out of the window, dreaming of the beach.
If this was the case, you would not have been paying attention when they were explaining about the weekly British 'bath night' ritual or the names of all the bridges on the river Thames.
If you had of been, you would now know that showers have been fitted to most English homes and that the bridge that opens up to let ships through is called Tower Bridge and not London Bridge.
As the early 90s rolled on, it was a well known fact that a broker held a much higher esteem than a doctor in the dating game and this meant that many career changes led many to don suits rather than white coats.
Bigger buildings were needed to cater for all these expanding broking houses and Number 1 London Bridge became the place to have your office.
The original London Bridge had been sold to a Yankee in 1968 and moved to Arizona, where it has become the second most visited attraction, after the Grand Canyon.
Around this time, I was trading Japanese shares and warrants for some very big funds, as the Japanese market had been on a dream run and the size and liquidity of the market became a brokers nirvana.
Japanese Warrants were issued by Japanese companies when they had a bond issue.
The idea was to raise say $US300m ($443.6m) via a 10-year bond and when the attaching warrants were exercised, they would raise the $US300m needed to pay back the bond.
Then, out of nowhere, a new market maker and bond issuer arrived on the scene and their office was of course at Number 1 London Bridge.
Attaining greatness
They quickly became the 'go to' market makers, as they offered better prices and bigger volume than Morgan Stanley, Goldman Sachs and Merrill Lynch put together.
Within a year they had become the number 1 market maker and as they needed me and I needed them, to celebrate they invited me to an in-house lunch.
Now, I am not being a snob here but walking to their office meant crossing the Thames and going to the other side of the river, away from the city and away from the Bank of England and the London Stock Exchange and more towards the areas where the cleaners and Black Cab drivers would live.
They had told me to be there at 11.30am sharp, which was about an hour earlier than the more traditional bankers would start a lunch. I walked briskly over London Bridge, fearing if I stood still for a moment, I would be mugged for my expensive handmade leather shoes.
When I got shown into the dining room, there were three of the new market makers, myself and about 10 Japanese gentlemen.
We sat down with the most senior players in the room seated at each end of the table and tucked into our starters.
Then as our plates were taken away, the most senior of the Japanese contingent was asked if he would like to do the honours and open Tower Bridge, on behalf of the Queen, and with that we all stood up and looked out of the window as Mr Yakamoto flicked an ordinary looking light switch on.
We all watched out of the window in amazement as Tower Bridge started to open up.
Lots of clapping, photos taken and even a certificate produced to commemorate this event.
We all sat down again and continued lunching, and just before coffee and liqueurs were served, Mr Yakamoto was asked if he would now like to close the bridge on behalf of the Queen and all the people in Britain.
This time he got up and flicked the switch down and down it went, right in front of our eyes.
Like magic!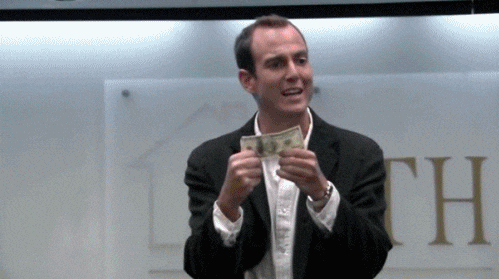 A week later, my luncheon hosts were appointed the lead manager and market maker to a rather tasty $US500m bond and warrant issue from Mr Yakamoto's company and everyone scrambled to get a piece of the action.
Seeing that I was at that lunch, I managed to elbow my way in to get a bigger allocation of warrants than our usual size.
After everything had been settled and allocations spread around, I took the market makers out for a few beers and told them how impressed I was with the way Mr Yakamoto had opened and closed Tower bridge and they just looked at me and laughed.
"We just look up the opening and closing times of the bridge in the London Shipping Gazette and arrange our lunches around that."
And that was it.
That was their secret to becoming the leader playing in a field already dominated by the traditional and staid players.
They had taken out a couple of light bulbs and produced something that David Copperfield would have been impressed with, and became the number one player.
So, if your broker invites you to their office to electronically ignite this year's Sydney Harbour New Year's firework display, just look up and see how many light bulbs are missing, as you may be being lined up to be mugged for more than just your shoes!
The Secret Broker can be found on Twitter here @SecretBrokerAU or on email at [email protected]
Feel free to contact him with your best stock tips and ideas.
Sponsored Articles