One curious individual has unearthed something that looks eerily similar to the creepy alien-like robot creatures in the Matrix.
Remember these: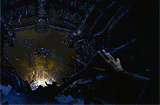 Apparently, this peculiar find is a collection of "Jimbacrinus Crinoid fossils".
According to fossilmall.com, the Jimbacrinus had "five arms that were lined with fine tentacle-like structures called pinnules. Like all crinoids, it used these unfurled arms to feed on small animals and particles in the water." Definitely sounds Alien to us.
Reddit readers also agreed.
BillyWitch-Doctor: "You're telling me that DIDN'T come from space?"
HighOnGoofballs: "Pretty sure I saw that movie, didn't end well."
cOosmica: "SEEMS LIKE KIND OF… ALIEN SPERM COULD BE."
Now, here's what you might have missed on Stockhead this week, but everyone else didn't, and liked the most.
There's always a buzz among explorers and miners when one makes a big discovery, and this is (usually) followed by a mad scramble to grab ground in the same area. It's what we call "nearology" people. Sometimes it pays off, sometimes it doesn't.
Funnily enough Newcrest had been buzzing along nicely in the Lachlan Fold Belt with its big Cadia gold mine, but it wasn't until Alkane hit paydirt that everyone sat up and took notice.
Now there are a bevy of gold hopefuls on the hunt for Cadia 2.0.
Read all about the "who's who" of the Lachlan Fold Belt.
If you're an investor that doesn't have any medtech stocks in your portfolio you might be kicking yourself right about now.
Why? Because the average 12-month return across 48 companies was a robust 66 per cent, driven by a group of 17 different companies that posted percentage gains of "at least three figures".
Sam Jacobs spoke to an investment fund with a close eye on the sector to get an idea of the investment opportunities.
To find out who this fund is tipping read on.
There's big money to be made in US sports betting, and it's delivering some very nice returns for investors with these ASX-listed standouts in their portfolio.
Since June, PointsBet (ASX:PBH) has become nearly a three-bagger, surging from $2 to $5.77 while Betmakers (ASX:BET) is a 10-bagger having surged from 4c to 40c.
The only stocks doing better are a chemtech play, a bug killer and a gold-copper explorer.
But the run in US sports betting stocks is only just starting to warm up, according to Ron Shamgar, head of equity strategies at TAMIM Asset Management.
Apparently, there is more to come.
It seems like coronavirus is hitting just about every industry, so it's probably not surprising rare earths is being impacted – especially given China controls, like, pretty much all of the rare earths in the world. Ok, maybe not all, but it's a lot.
And right now, no one's at work in China to make produce the much-needed rare earths that get shipped all around the world.
One country's problem is another country's opportunity – and Australia has massive deposits of rare earths it can tap into to capture market share.
Bevis Yeo runs through the contenders in the space.
It's no surprise that our gold column continues to be popular, especially since the safe haven precious metal keeps notching new records.
It has now punched through $US1,600, pushing it to over $2,430 in our dollars. Aussie gold producers will be minting even more money now!
If you missed it, read our recap of what's fuelling the surge and what ASX-listed stocks are up to.
And still more gold… With so much momentum in the gold market, it's a tough call to find good stocks that aren't overvalued.
But don't panic yet, Reuben Adams found an analyst that still has some good gold stock picks up his sleeve.
Finally, a break from gold! 'Garimpeiro' columnist Barry FitzGerald runs through the upside of this nickel-copper hopeful, which is clearly lacking the investor love.
As Fitzy says: "The much-anticipated release last week of a pre-feasibility study into a $995m development of the remote Nebo-Babel nickel-copper project in Western Australia was meant to send the shares of Cassini Resources (ASX:CZI) into orbit."
But sadly, that didn't happen.
Take heart though, Cassini still has a ripper project that is worth more than three times its market cap. And a big partner in its corner.
"Anti-money laundering and counter-terrorism financing laws" … yep it's a bit of a mouthful but apparently really important for companies to pay attention to.
So that's why there's a market for "regtech" players – companies that can help other companies keep themselves out of hot water.
This week Nick Sundich delivered readers a list of the ASX-listed regtechs.
Everyone loves some good expert picks, especially when it helps you avoid losing money. Small cap IPOs in Australia are notorious for being a gamble, and the way to get a good one — or, at least, avoid the bad ones — is to do your homework, says one fund manager.
One red flag for this particular expert is "valuation".
Rachel Williamson chatted to David McNamee, from Brisbane-based Altor Capital, to find out how to pick a winning IPO.
In typical Chinese government fashion, its answer to perking the country's economy up once it gets this coronavirus thing under control is to roll out more stimulus measures.
And that could be good news for the bunch of ASX-listed stocks that rely on the Asian powerhouse for income.
See who may be the beneficiaries of the proposed tax and fee breaks and infrastructure and credit support.
Hopefully this week's sad news that Holden is disappearing from Australian car yards and streets won't dampen your weekend too much! 
Featured Companies
Sponsored Articles