That didn't take long. KFC's foray into meatless chicken this week has already drawn the wrath of nutritionists.
One nutritionist told Business Insider that although the plant-based options were slightly lower in calories and fat, they're still not much better for you than the traditional meat option.
"Processed foods, whether they're meat-based or plant based, aren't a nutritional need in our diet, especially when they involve low-quality oils," Whitney Stuart, a board-certified and licensed dietitian-nutritionist, said.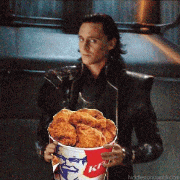 Sigh, guess it's back to boring lettuce leaves and water.
Here's what you might have missed on Stockhead this week, but everyone else didn't, and liked the most.
This was a doozy that even caught The Australian's attention! (Keep an eye out for it next week).
Stockhead's very own Dr Data, Nick Sundich, waded through the stack of brokers notes to pull together this list of radical buy calls.
An interesting bunch to say the least – BidEnergy, FBR, Rural Funds Group.
See for yourself which other stocks made the list.
Let's be frank (or in this case Donald), it wouldn't be a normal day without Trump making it into the headlines.
It's kind of nerve wracking waiting to see what the rogue US president will do next and whether it will have good or bad implications.
In this case though he is really making commodities look good – particularly these 35 minerals that have been deemed "essential to the economic and national security of the United States".
We've compiled a list for you….and you're welcome!
Gold continues to be a headline grabber. The record high price (thanks Trump!) has seen gold producers pumping out the ounces like they were back in the 80s.
According to figures from mining consultants Surbiton Associates, Australia's gold production hit 321 tonnes for the year.
But production may well fall of a cliff if they don't start making some new discoveries.
This one's a clear fave of our loyal readers.
Each Monday, Stockhead recaps which stocks are heavily demanded by investors – or running hot.
Stockhead uses the Relative Strength Index (RSI), a technical gauge which measures how trading momentum is affecting the price action.
You can read all about what exactly RSI is here.
AJ Lucas was the top hot stock this week thanks to gas fracking resuming at a project in the UK that it part owns.
The UK government also helped a little – by declaring how important gas is an energy source.
Here's a bunch more hot stocks.
When a small cap beats a major like BHP to a prospective piece of ground, investors more often than not sit up and take notice.
And Red Metal (ASX:RDM) was no exception, with readers drawn to Garimpeiro's delve into how this junior picked up ground (and gave itself a first mover advantage) in what is looking like a hot new exploration province.
While others turned a blind eye to 2015/2016 data that outlined what could be an exciting new metals province under the Nullarbor, Red Metal was all over it.
And then, what do you know? Along came copper heavyweight OZ Minerals (ASX:OZL), signing on as Red Metal's partner.
Another headline grabber is Tesla (sometimes for the completely wrong reasons though!) But this week readers were eager to find out if VW would be looking at swallowing up Tesla.
It also helped that our regular High Voltage feature included some pleasing profit numbers for the likes of Chinese EV maker BYD.
On top of that, small cap battery metals stocks looked a little better off than other metals stocks.
Our readers sure do love a deep and meaningful with an up and coming small cap. This week's Explorers introduced you all to Venturex (ASX:VXR) boss Ajanth (AJ) Saverimutto.
He taught us about the importance of a strong team and cashflow, VMS deposits and (even more exciting) why copper is the place to be.
Being "green" is front and centre right now, so it makes sense the plastics recycling and waste management sector would be a good place to sink some dough.
The momentum around reducing single use plastics consumption or banning it outright is mounting.
"It's a big political issue that isn't going away; and once it gets political it gets government attention," Armytage Private's Lee Iafrate told Stockhead's Reuben Adams.
Here are his top recycling stock tips.
This week we launched a new fortnightly tech wrap.
Maybe The Simpsons is still in vogue, or perhaps everyone just wants a piece of tech! Either way this made it into our top 10.
Buy now, pay later stocks are still the big winners.
Splitit (ASX:SPT) surged as high as $2 before retreating to 42.5c. But it is still more than double its IPO. Sezzle (ASX:SZL) has also retreated from its all-time high but is still much higher than its IPO.
See who else is outperforming.
And it wouldn't be a top 10 without the Secret Broker's insights!
Only the Secret Broker can link Master Chef and iron ore bosses so convincingly.
He very expertly runs through why not every iron ore magnate wannabe is going to be the next Andrew "Twiggy" Forrest (with a comparison to expert restaurateurs in there for good measure).
In true TSB fashion it's got everything to do with the bond market and picking the right iron ore boss to help you out.
Anyhoo, that's it from us. Dads, be sure not to get too pissed on Father's Day, you still have to parent somewhat sober (well that's what they say anyway).
Have a good weekend!
Sponsored Articles